Before going to understand the ways to become an Instagram influencers, Let's understand,
What does it mean to be an influencer?
An Influencer is a 9 Secrets To Be An Instagram Influencer
Before going to understand the ways to become an Instagram influencers, Let's understand:
What does it mean to be an influencer?
An Influencer is an s who has the power to sell products of others and his/her because of his/her Authority, Knowledge & Relationship with his/her Audience, Following a particular niche.
For Example Travelling, Photography, Vlogging, Product Reviewing, Gaming, Roasting, etc.
Lets deep dive into Instagram Influencer. Now Instagram marketing is the best way to promote is best for any type of product.
1- Select a Niche:
Selecting a niche is the 1st step to be an Instagram influencer. So, what is a niche? Niche is a Particular subject you choose according to your interest that fascinates you. Then you have to understand your niche deeply to know more about what you can do on Instagram.
Maybe you are interested in:
Traveling
Vlogging
Gaming
Health and Fitness
Luxury/Lifestyles
Unboxing
Fashion
Beauty
There are lots of niches but it's up to you what you want to select, which passionates you, which makes you different from others to be an Instagram Influencer.
2-Hashtag Research:
Hashtag Research is your second step towards Instagram Influencer. Once you find your Niche now it's time to find proper, relevant hashtags for your posts. A right, relevant hashtag can easily boost your audience.
Amounts: 3-5 Hashtags are a good amount of hashtags for your post. Some posts also have 11 hashtags on their posts. Hashtags must be relevant to your niche & your audience.
How can you find Hashtags that are impactful?
Well, there are two ways you can find impactful hashtags.
a-Competitor: You can analyze your competitor's post's hashtags to find the best hashtags for your posts.
b-Influencers: you can also look for Hashtags used by influencers in your niche.
Keep in mind: One thing to keep in mind is to check to ensure that Particular Hashtags Don't have too much inappropriate content.
Tools: Following tools you can use for Hashtag Research:
PIXLEE , Keyhole , Hashtagify , Tweetreach
3- Create a Business Account:
First, create a business account. Why? Well, Instagram provides the best tools for Influencers. Mostly Business owners are Influencers. Instagram provides an analytic tool for you. So, you can measure your success. It helps you in which content is win-win and which is not? Who is your audience? What do they want from you?
4-Unique Bio:
If you won't become Instagram influencers your Bio must be unique and attractive. Try to be Honest, Write about your niches. Don't hesitate in putting emojis.
Remember your bio is a Welcome Note So, think about it and write it carefully.
5-Publish Your Content:
Now it is time to publish your content. So, your content must be Engaging, Entertaining & Inspiring. You can use Eye-catching Graphics for your posts. Your content must be relevant to your Niche.
You can also share your Content in video form Through Instagram Stories & IGTV. Remember one thing:
"Content is King"
You must be consistent in posting your Content. Because your audience will never wait too far.
Timing for publishing Content:
Best Time: Fairly Throughout the week, although Mondays & Wednesdays are particularly strong for engagements.
Worst Time: 03:00 Pm to 04:00 Pm, Sundays are weak for engagements.
6-Engage with Followers:
You have set up everything Engaging Content And Graphics, And a decent amount of audience on your account. Now as an Influencer your work is to immediately interact with your audience on your posts. Make them feel as if they are speaking to an individual, not commenting on a post wall. Encourage them to use your Hashtags. Treat them as a family.
7-Become a Brand Ambassador:
As an Instagram Influencer once you get Thousands of followers. You can connect with brands. You can increase their awareness in your audience and can sell their products using your Content Strategy and Graphics in your audience.
You won't instant replies and not all brands will make you partner, but you can join platforms like grin , socialpeeks , HYPR, Influencer Bay , TapInfluence To connect with brands in your niches.
8- Make It Fun:
Turn your passion for fun. First of all select a niche that fascinates you not that is in trending. Try to engage with your audience in fun ways. Let them enjoy your content. Do Q & As, Web Series, Share your thoughts with your audience. Make them feel like a Family. Turn their sadness into happiness with your content. Remember not all the time your audience wants to buy. If you focus on selling it will not be win-win.
9-Analytics: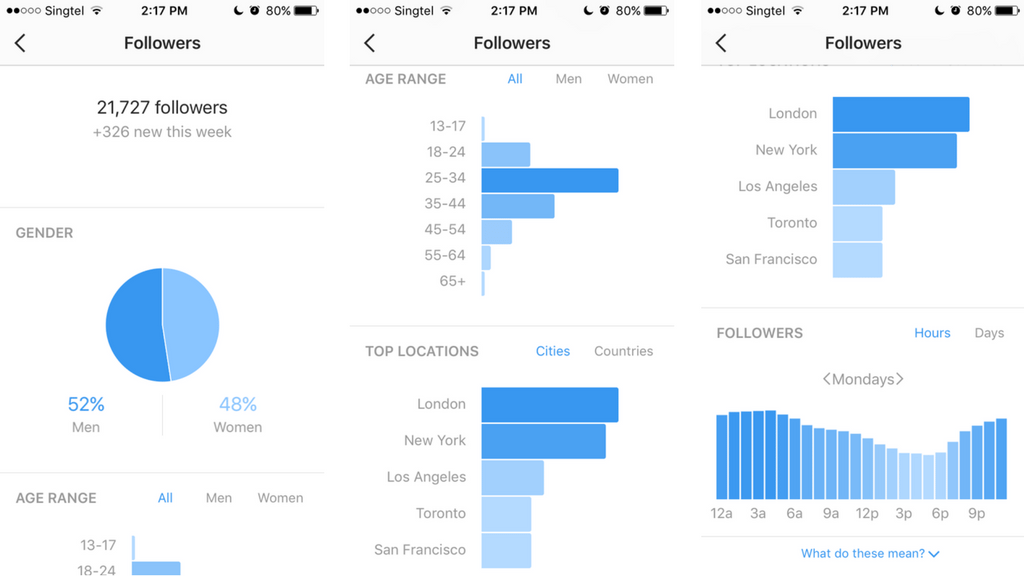 Use Instagram analytics to measure your success on Instagram.
Who is your audience?
What are their Interests?
What are their ages?
Where did they come from?
Which content attracts them?
What makes them happy?
You can use these insights to reach the right kind of audience with the right kind of content.
Conclusions:
Becoming an Instagram Marketing Influencer is the best way to make a 6 figure salary & make a happy living. All that you have to do is find your niche, create a Business account, Do Hashtag Research, Publish your content and Engage Engage Engage. Now you have all the knowledge to become an Instagram influencers.